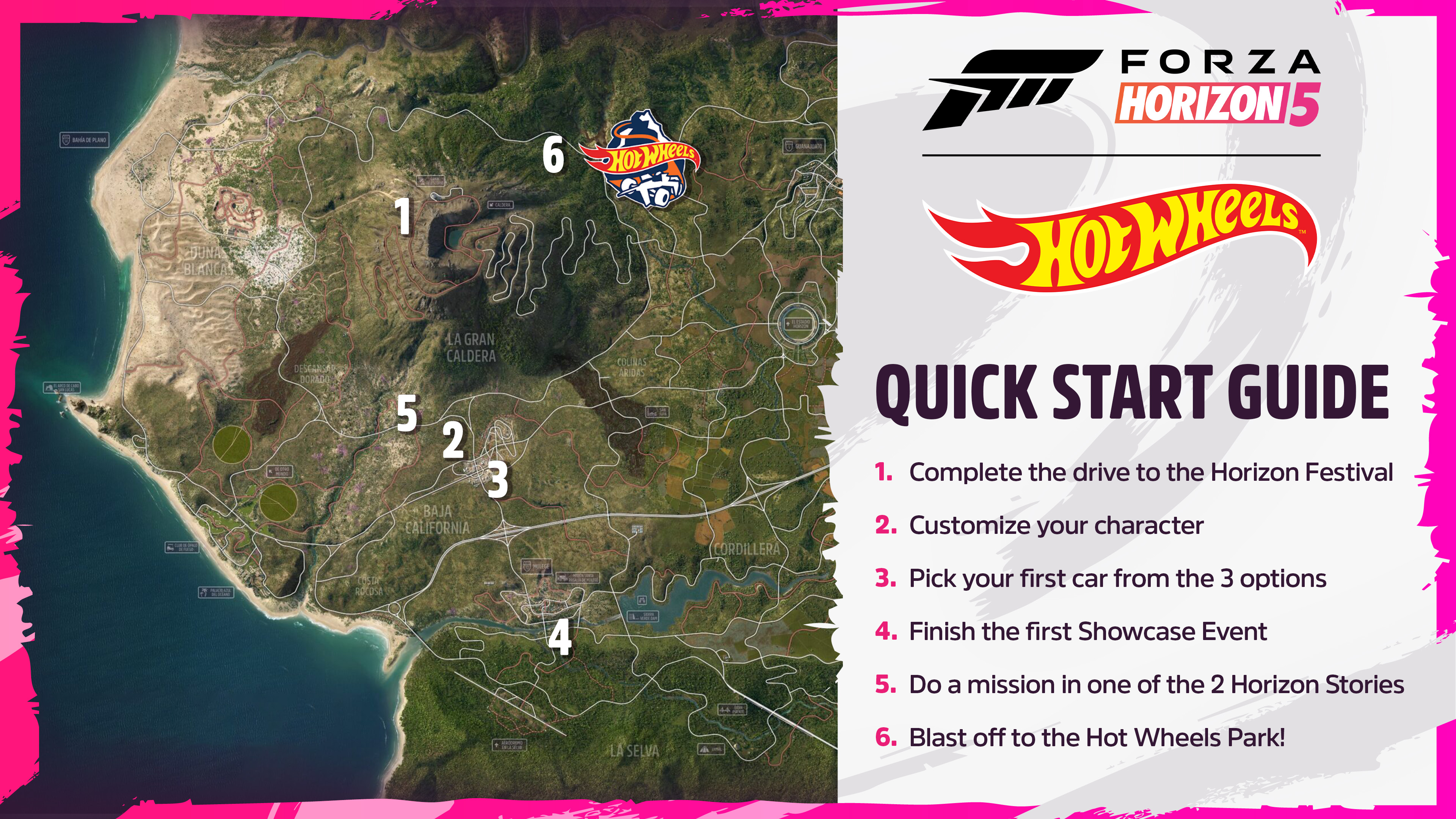 Before you travel high in the clouds to Horizon Hot Wheels Park, you'll need to get acquainted with the Horizon Festival in Mexico by completing what we call the "Initial Experience."
This consists of the opening 15 minutes or so in the Forza Horizon 5 base game and features the cinematic Initial Drive sequence, the creation of your character, the opportunity to choose your first car, a Showcase event, and the first Horizon Story mission where you'll get to choose between driving through a dust storm for photography or tracking down a long lost Vocho.
Once you've completed your first Horizon Story mission, the Hot Wheels Expedition icon will be added to your map by Mexico's Gran Caldera (in the north on the Mexico map) assuming you've already purchased and downloaded the Forza Horizon 5: Hot Wheels expansion or acquired it through the Premium Add-Ons Bundle, the Premium Edition or Expansion Pass.
Upon your arrival at the Hot Wheels Park, you'll have the freedom to travel between it and Mexico through the Pause Menu at any time! Fast Traveling in Hot Wheels Park is free and available immediately.
Quick Start Steps
Complete the drive to the Horizon Festival
Customize your character
Pick your first car from the 3 options
Finish the first Showcase Event
Do a mission in one of the two Horizon Stories

El Camino - Into the Storm - Drive through a dust storm for photography
Vocho - The Vocho - Tracking down a long lost Vocho

Blast off to the Hot Wheels Park!
DLC Troubleshooting
If you are having issues getting the Hot Wheels icon to appear on the map or other DLC access issues please check out our guide on DLC troubleshooting.