What are the Loyalty Rewards for FH5?
Loyalty Rewards are one-time gifts at the start of your FH5 gamesave as a reward to players of previous Forza games. You'll receive up to seven cars based on which games you've played. Forza fans will recognize these cars as the game cover cars.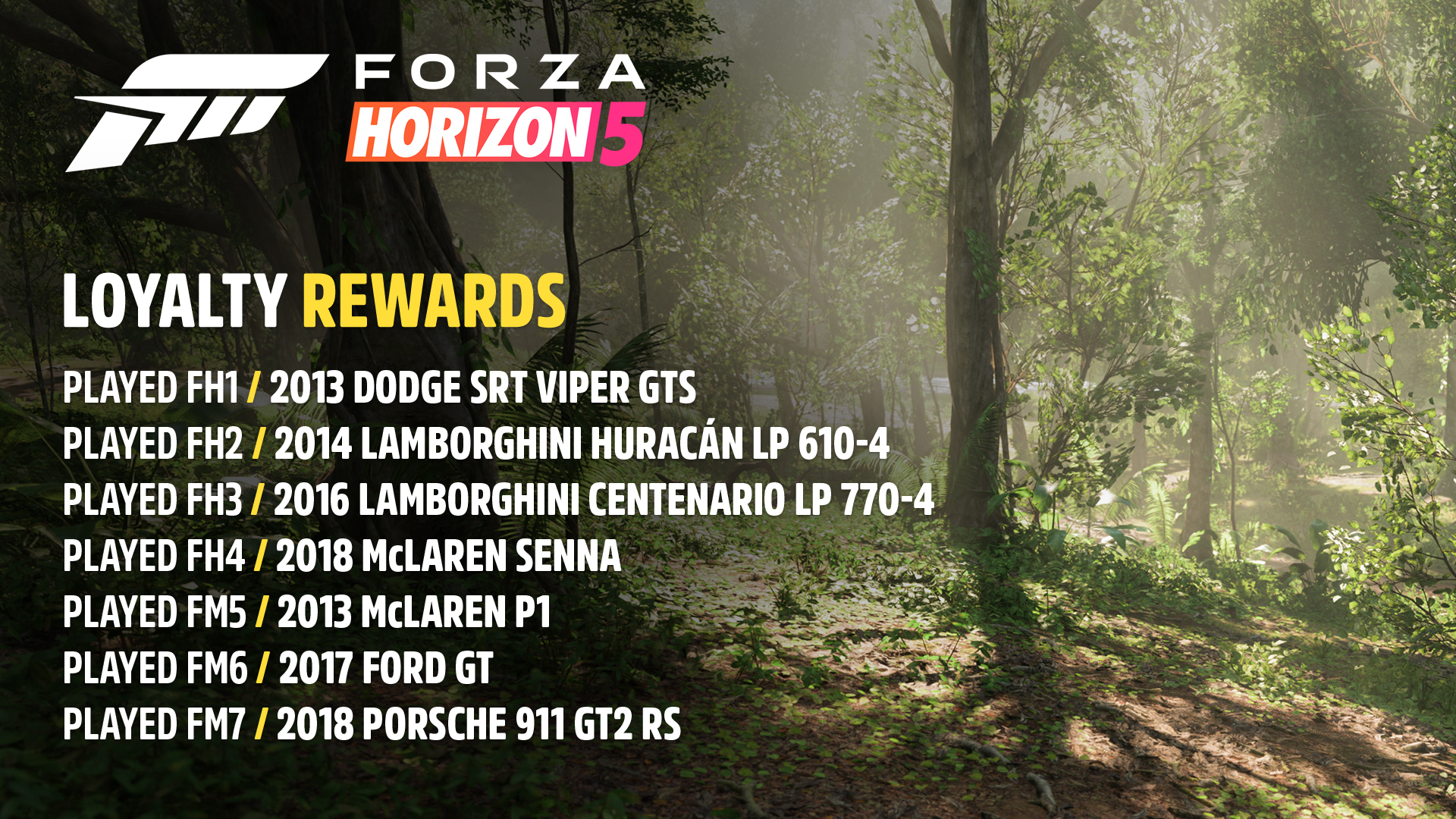 Q: When will the rewards be available?
A: Day one! Forza Motorsport 5 reward will come at a later date. Stay tuned for updates.
Q: How do I collect the rewards?
A: Once you progress through the initial drive and the first Story chapter, you'll see a notification that the reward cars have been automatically gifted to your garage. You can then select one from the Change Car menu or head back to your garage and upgrade, tune, and paint them as with any other garage car. There is no deadline for activating Loyalty Rewards, so you'll be eligible for them whether you start playing FH5 at launch or in the future.
Q: If I start a previous game after playing FH5, will I get that reward?
A: Players will need to have played previous titles before the launch of FH5 to qualify for rewards. Loyalty rewards are not sent to players who play other Forza titles after the launch date of Forza Horizon 5. But don't worry, these cars are the same models available from the Autoshow in every edition, and with Xbox Game Pass, so you'll be able to collect them all from gameplay.
Q: Will I get the reward if I previously played FH4 on Steam and now play on Xbox? (or vice versa)
A: The rewards are based on your linked Gamertag, so if you played FH4 on Steam, you'd get the Senna in your FH5 Xbox or Windows game save. And if you previously played Forza on Xbox and now play FH5 on Steam, you'll get the rewards in your Steam game save.
Q: Will I get the Huracán if I played the Xbox 360 version of FH2?
A: Yes!
Q: What happens if I reset my game save?
A: Loyalty Rewards are once-per-game save, so if you reset, you'll receive them again. Just remember – if you reset your game save, any other cars you had in your garage won't be there when you start over.
Q: Can I sell the reward cars in-game for credits?
A: The cars received from Loyalty Rewards can't be sold on the Auction House or gifted to others via the Gift Drop feature. You can still buy duplicates of these models in the Autoshow and later put them up for Auction or Gift Drop.
Q: What about Forza Rewards?
A: As we previously announced, the Forza Rewards program is being discontinued and not applicable to Forza Horizon 5. Additional in-game rewards and bonuses are available from FH5 VIP Membership, regardless of past Forza game history.