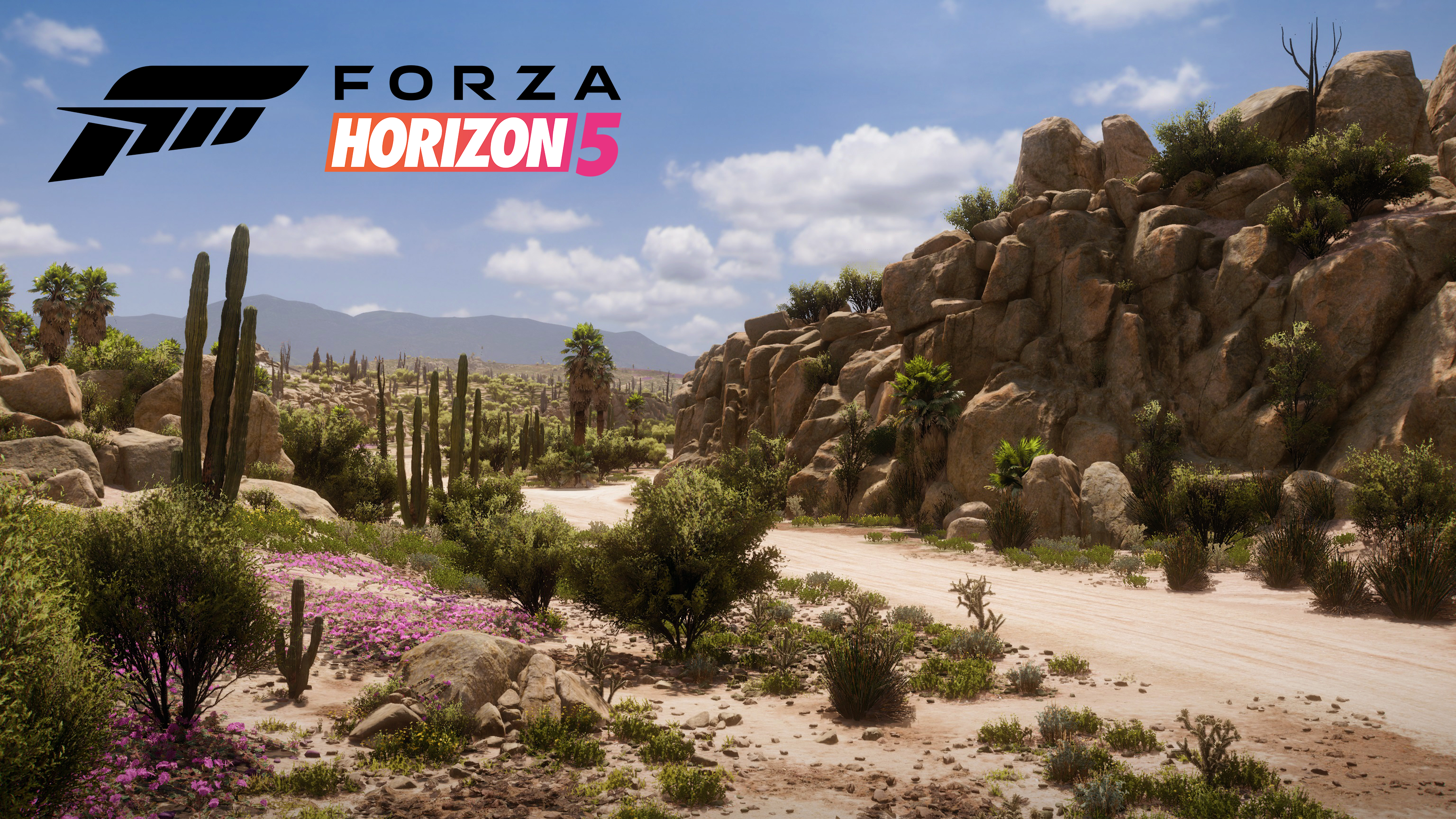 Forza Horizon 5, the highly anticipated follow-up to 2018's breakout hit open world driving game Forza Horizon 4, arrives on November 9 on Xbox Series X|S and Xbox One consoles; PC on Windows 10 and Steam; Xbox Game Pass and Xbox Game Pass Ultimate, and on Android phones and tablets via Xbox Cloud Gaming (Beta). The Horizon Festival's unique brand of fun and freedom is headed to beautiful and vibrant Mexico. Forza Horizon 5 features the largest, most diverse open world ever in a Forza Horizon game set against a vibrant, ever-evolving landscape with limitless driving action in hundreds of the world's greatest cars.
Q: When is the release date for Forza Horizon 5?
A: The Forza Horizon 5 Standard Digital/Disk and Deluxe Digital Editions release on November 9th, 2021.
The Forza Horizon 5 Premium Edition Early Access begins on November 5th, 2021 for all platforms. Early Access begins on November 5th, 2021 for Xbox Game Pass members, Standard Digital or Deluxe Digital Edition owners as part of the Premium Add-Ons Bundle for separate purchase on Xbox and Windows.
Q: What time is it releasing?
A: While FH5 on Xbox/Windows is releasing at 12:01 AM local time for each region, Steam editions will release globally at 12:01 AM Eastern time in the USA (ie, New York City). USA is UTC-4 for Premium Early Access and then switches its clocks to UTC-5 on November 7th, which may affect your local time conversion for general access for Standard and Deluxe Editions on November 9th."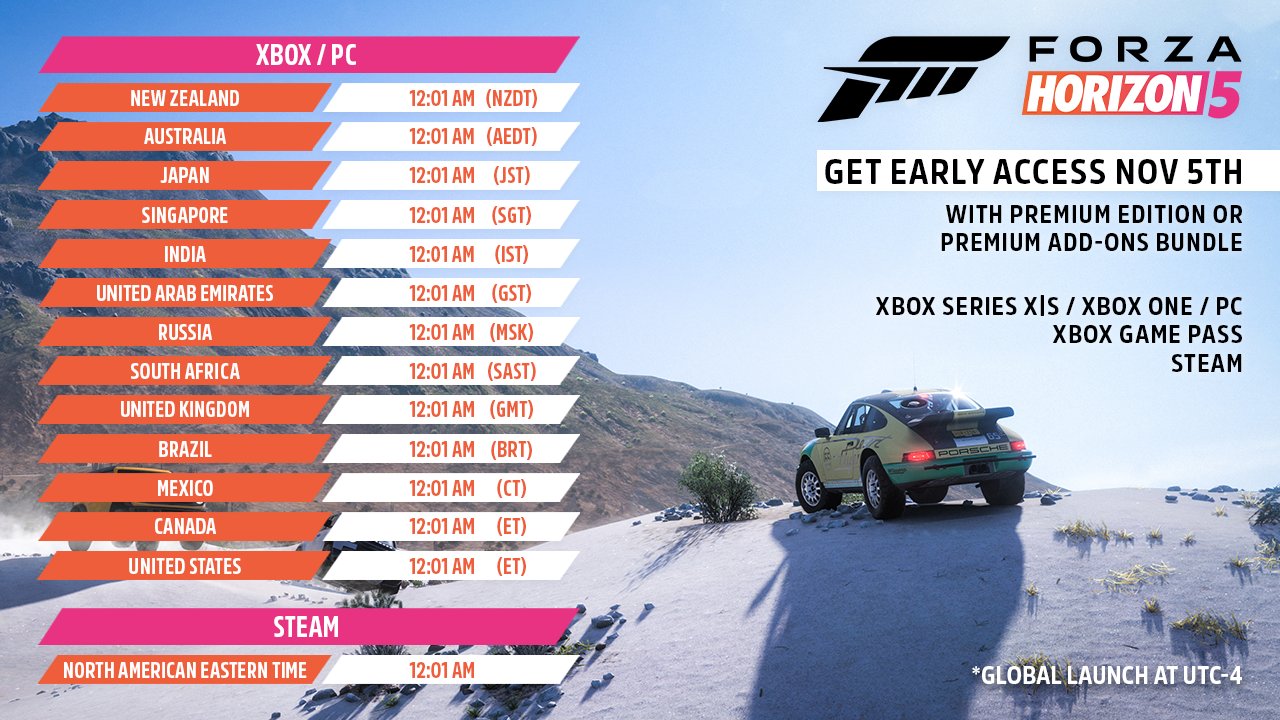 Q; What platforms will the game launch on?
A: Forza Horizon 5 will launch on the following platforms:
Xbox Game Pass
Xbox Series X|S
Xbox One, Xbox One S, Xbox One X
Windows 10 PC
Steam
Available to stream on Android Phones and tablets with Xbox Cloud Gaming with the Xbox Game Pass mobile app.

Xbox Play Anywhere title (Windows 10 PC and Xbox console versions included with single digital purchase at no additional cost)
Q: Which markets will the game be available in, and what are your localization plans?
A: Forza Horizon 5 will feature localized text in the following languages:
English
French
German
Portuguese (Brazil)
Spanish (Mexico and Spain)
Italian
Japanese
Korean
Russian
Czech
Turkish
Hungarian
Traditional Chinese
Simplified Chinese
Polish
Forza Horizon 5 will feature full localized voiceover support for English, French, German, Spanish (Mexico) and Portuguese (Brazil).
Q: Which car will be on the cover of Forza Horizon 5?
A: Forza Horizon 5's cover cars were announced during Gamescom 2021: the Mercedes-AMG ONE and 2021 Ford Bronco Badlands.
Q: What features and modes set Forza Horizon 5 apart from previous Forza Horizon games?
A: Forza Horizon 5 features our most diverse, adventurous, and social open world yet, inviting players to lead breathtaking expeditions across the vibrant and ever-evolving landscapes of Mexico with limitless, fun driving action in hundreds of the world's greatest cars. In making the greatest Horizon experience yet, we have worked to add and evolve several new features and modes that will enhance the player experience with Forza Horizon 5. Here are some of the new features highlighted by Mike Brown – Creative Director at Playground Games during the Xbox & Bethesda Games Showcase.
Horizon Story - Experience a deep and rewarding campaign, where you will meet new characters and determine the outcome of their Horizon Story missions. You will take on expeditions across the map, battling the elements in hundreds of the world's greatest cars.
Forza LINK– The new AI assistant that intelligently tracks your status, the people you meet online and then helps you Link Up and play together.
Horizon Arcade – With 130 challenges spanning 12 total game modes Horizon Arcade invites players to journey to Arcade markers across the map to engage in various challenges and mini games.
EventLab – The incredible new toolset that allows you to create your very own races, game modes and game play experiences – you customize everything – right down to the fundamental rules of the game.
Horizon Open – Refines the traditional Forza Horizon PvP experience with an emphasis on lower friction and fun by unifying it under one banner, allowing players to seamlessly jump into sessions for Racing, Games, Drift, Eliminator and more and stay until they have had their fill.
Horizon Tour – See players jump into races from anywhere across the world, meeting up with other players to race against Drivatars on Average difficulty. This mode captures the experiences of a car-meet, with players meeting up in the world to race and having the option to continue together to the next Tour location in the world.
Vehicle Customization – A complete UX overhaul to bring the experience in-line with modern image manipulation software. We have also added 100 new rims, hundreds of new visual upgrades, and thousands of performance upgrades.
Character Customizer – Improved to provide players with a more diverse cast of selectable characters. New customization options include the ability to customize hair style and color, select prosthetic limbs, choose pronouns, select from different voices and the ability to purchase clothing with credits.
Kudos – A social currency awarded between players for positive acts, unlocking flairs that can be attached to a player's label and visible to others.
Gift Drops – Send and receive gifts from the community. You can take one of your cars, apply upgrades and a paint job and then drop it as a gift to another player.
Q: How many cars can players collect in the game?
A: Forza Horizon 5 will feature hundreds of the world's greatest cars. We will have more information on Garage capacity coming later this year.
Q: How does Forza Horizon 5 perform on Xbox Series X|S?
A: On Xbox Series X Forza Horizon 5 will feature 4K resolution at 30fps, on Xbox Series S Forza Horizon 5 will play at 1080p resolution at 30fps. Both platforms will feature a performance mode that runs at 60fps.
Q: What Xbox Series X|S features does Forza Horizon 5 take advantage of?
A: Xbox Series X|S enabled us to provide players the most technologically advanced Forza Horizon experience yet. The power of this Xbox Series consoles has enabled us to deliver incredible realism and immersion with a world rendered in higher detail and with extreme draw distances. Forza Horizon 5 runs at 4K 30 FPS on Xbox Series X, and 1080p 30 FPS on Xbox Series S. For players that prefer to optimize for framerate, we are providing a performance mode option that will run at 60 FPS.
Q: Does the game feature ray tracing?
A: Ray tracing is utilized in Forzavista to make the cars look even more true to real life.
Q: With Forza Horizon 5 launching Day One on Steam and Windows 10/11, how can PC players get the most out of the game?
A: We're excited to be bringing Forza Horizon 5 to players on both Windows 10/11 and Steam at launch. PC Specs.
Q: Does Forza Horizon 5 support Smart Delivery?
A: Yes, Forza Horizon 5 supports Smart Delivery to ensure you are playing the best version of the game for the console you are playing on.
Q: Does Forza Horizon 5 allow "mods"?
A: No, Forza Horizon 5 does not allow users to modify game files in any way.
Q: Can I import liveries from previous titles?
A: Yes. However, cross-platform importing (i.e. between Steam and Xbox) is not supported.
Q: Will Forza Horizon 5 have VR support?
A: No, we are not planning VR support.
Q: Will there be a demo for Forza Horizon 5?
A: We will not be releasing a demo for Forza Horizon 5.
Q: Is it possible to edit a custom route created in EventLab?
A: EventLab currently does not allow players to edit their custom routes upon completion. We understand this is not ideal for our EventLab creators and in a future Forza Horizon 5 game update, we will introduce the ability to save and edit."