Where is Photo Mode?
Photo Mode is available in single player races (press Pause to find the menu), replays, and in Forzavista mode. Saved photos are stored in the Multiplayer menu tile Forza Gallery.

Can the car be positioned or repaired or the driver removed in Photo Mode?
No, the only toggle in Photo Mode is to turn Headlights on or off.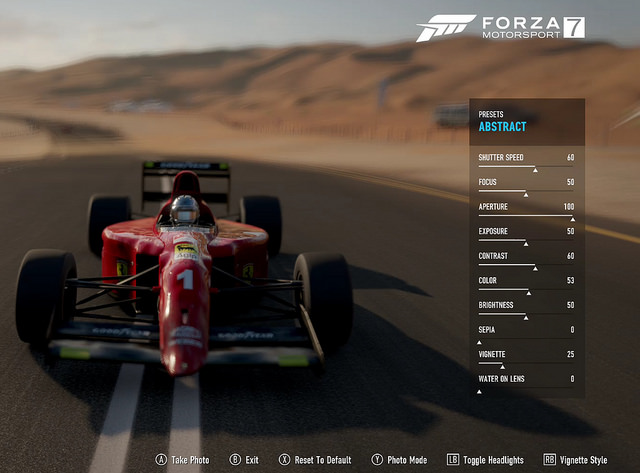 How do I use the Photo Mode settings for better photos?
Photo Mode has multiple presets for various effects with color, and you can also customize Shutter Speed (object blur depending on focus point), Focus, Aperture (depth of field), Exposure, Contrast, Color, Brightness, Sepia, Vignette, and Water on Lens (during rain). Maximum Zoom is 20.0x and Maximum Altitude is 6.6 feet. See the Forzatography forum for tips from other players, and refer to the FM7 Forzatography forums. Keep an eye on the Turn 10 Picks section of the Gallery (Forza Hub and in-game) for examples of winning composition and effects.


How can I download my in-game photos? What is their resolution?
Method 1: Using a computer browser, find your saved photos in the GALLERY dropdown under the COMMUNITY menu on the website and save them to your computer; this is also available in the Forza Hub app on PC.
Method 2: Take an Xbox One Screenshot (below) while in Photo Mode with UI hidden or while viewing a photo in the in-game Forza Gallery menu (not available while streaming).
Method 3: Stream your game to Windows 10 using the Xbox app and take a screenshot from your device.

Xbox One Screenshot
See the Xbox Support topic on capturing and sharing screenshots. Double-tap the Xbox One controller power button and press Y to save the image or say "Xbox, take a screenshot." Use the Upload app to manage saved screenshots from My Captures, where you can set the image as your console background or share it to your activity feed, in a message, to Twitter, or to your OneDrive. See the March 2015 announcement for a quick video tutorial. Screenshot is not available while streaming.

Xbox App streaming video screenshot
When streaming to your Windows 10 Xbox App you can use the keyboard combination CTRL + Print Screen to capture the current display from your monitor and then use an image editor to paste and trim the capture.

How do I post photos in the forums?
Start by saving your photo to a hosting site such as Flickr or Imgur. Click the Post Reply button in a forum thread and use the Insert Image icon

or use bracketed url= and /url coding and enter the url for the image itself (.jpg or .png, not a webpage). The site will automatically resize large pictures to 800px wide. See the How to upload a photo thread for detailed instructions.

How do I participate in official photo contests?
Official contest threads can be found in the Community Events forum and summarized in the FM7 Gifts and Contests thread as well as www.bit.ly/FM7spreadsheets


(Written by Manteomax)