Can we turn off the shaking HUD graphics effect?
"Like in Forza Motorsport 6, the force triggered camera effects can be turned off." The camera effects along with rattling noises in the cockpit were added to FM7 with the goal of making the driving experience more immersive and realistic to what real drivers experience.

Can the steering wheel be removed from the cockpit camera view?
Yes, the Driver view removes the wheel from the cockpit view so it doesn't distract players using wheel controllers.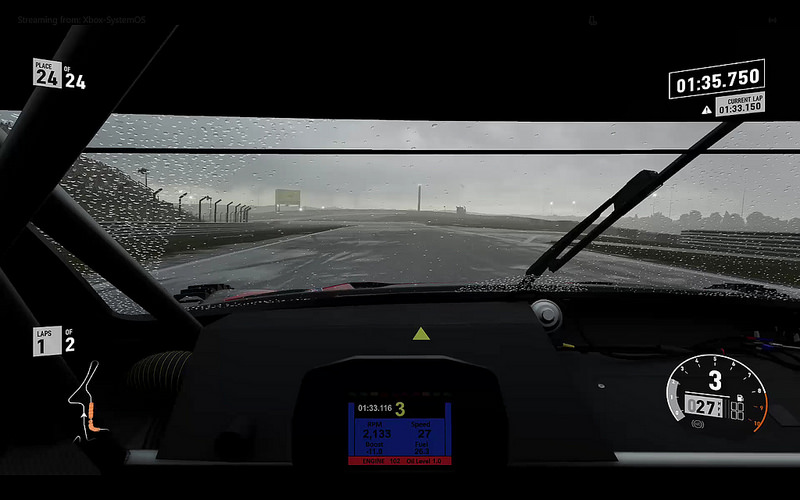 Can telemetry data be exported to an app for analysis?
Forums: discussion thread

HUD Options
CAMERA VIEW: Bumper, Hood, Cockpit, Driver, Chase Near, Chase Far
CAMERA MOTION EFFECTS: Off, Normal, Simulation
DAMAGE/TIRE HEAT: Off/On
MAP: Off, Fixed, Rotating
LAP TIME, POS, SCORE, QUICK STOP: Off, Default, Conditional
WRONG WAY WARNING: Off/On
NAMES OVER CARS: Off/On
SPEEDOMETER: Off, Analog, Digital
DISTANCE AHEAD: Off, On, Multiplayer Only
UNITS: Default, English, Metric
GHOSTS: Off, On, Rivals Only
REWIND: Off/On
RACE FEATS: Off/On
DRIFT HUD: Off/On
TRACK CAUTION: Off/On
PIT MERGE WARNINGS OVER CARS: Off/On
PIT MESSAGING AND WAYPOINT: Off/On
PROXIMITY ARROWS: Off/On
(Written by Manteomax)