Can I import my cars and credits from FH3 or FM6?
Cars and credits do not transfer from other Forza games. Loyalty Rewards, based on Forza Rewards tier, include Prize Crates which may include cars.
Forums: discussion thread

What is the fastest way to earn credits in the game?
Watch the forums for tips from other players. In addition to driving you can earn extra credits from taking advantage of each of the following features.

Earning Credits
The economy in Forza games to date has been based on credits earned from racing and then used to buy cars and upgrades. In E3 interviews, Dan Greenawalt described a constant rate of credits earned by distance driven, with longer races earning more credits. Bonuses are also provided by Mods in use for the specific event and double credits for VIP status.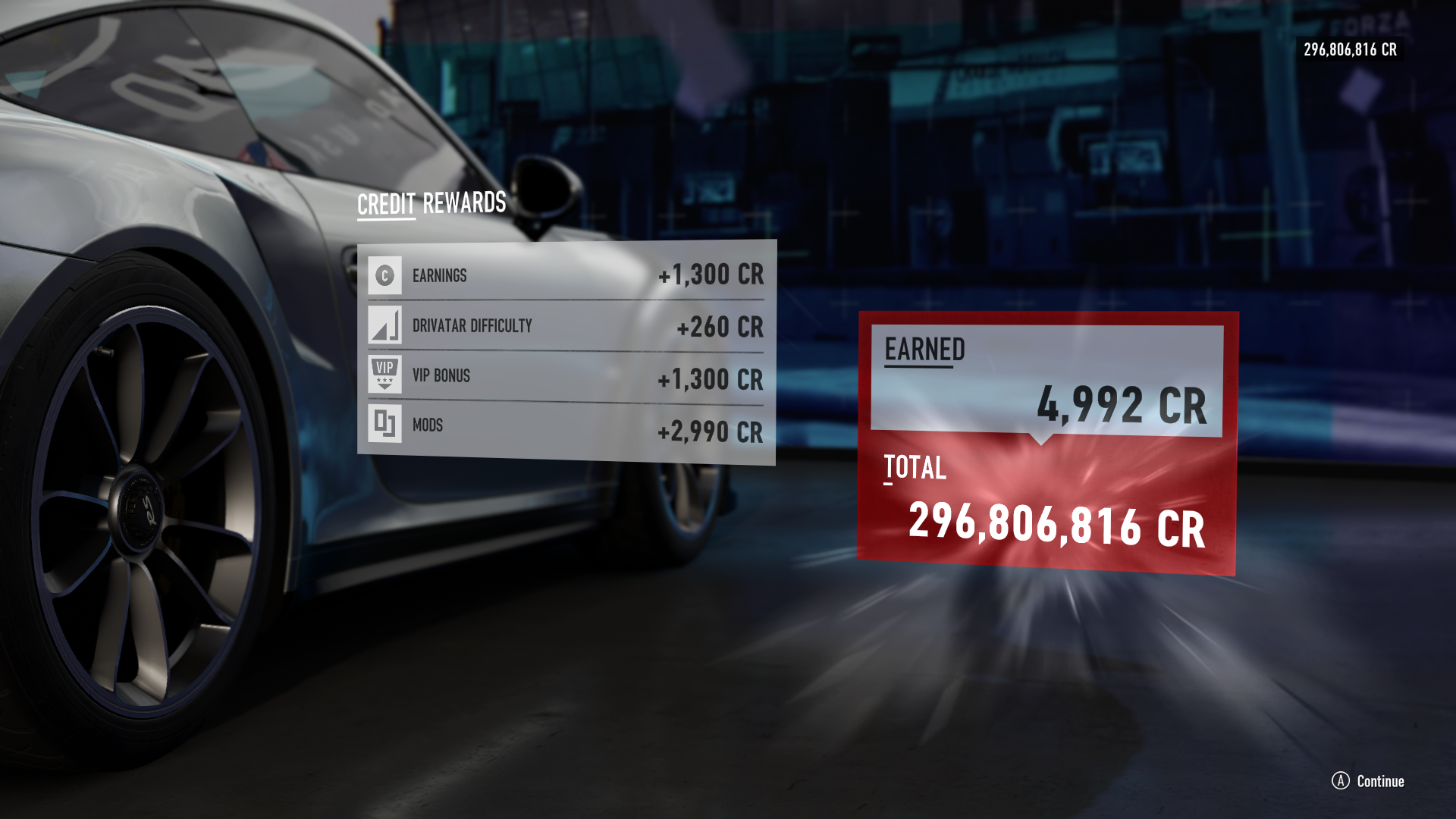 Shared File Income
In Xbox One Forza games, shared liveries and tuning setups are free to download and use, which provides credits to the creator. Credits are calculated automatically and paid to the creator via the Message Center.

Auction House
The Auction House returned to Xbox One Forza games with FH3 and is in FM7. Players can buy and sell cars to other players, increasing their value with upgrade parts and unique designs. FM7 includes an Auction House transaction fee for sellers.

Milestone Rewards
Milestone Rewards are given in CR, Mods, cars, and Driver Gear each time a player levels up. The higher the Car Collector Tier, the better the rewards.

Forza Rewards
Forza Rewards is a monthly gift program that automatically tracks your activity across the Forza franchise games back to Forza Motorsport 2. Earned points increase a player's Forza Rewards Tier, and higher tiers provide more credits. Players redeem rewards from the Forza Hub or via the website menu.

Contests
Official periodic photo and livery contests offer an opportunity to earn more credits, and from time to time there may be contests run or sponsored by Turn 10 with gift car or credit prizes. See the FM7 Contest and Gift thread for past and current opportunities.
Forums: discussion thread
(Written by Manteomax)