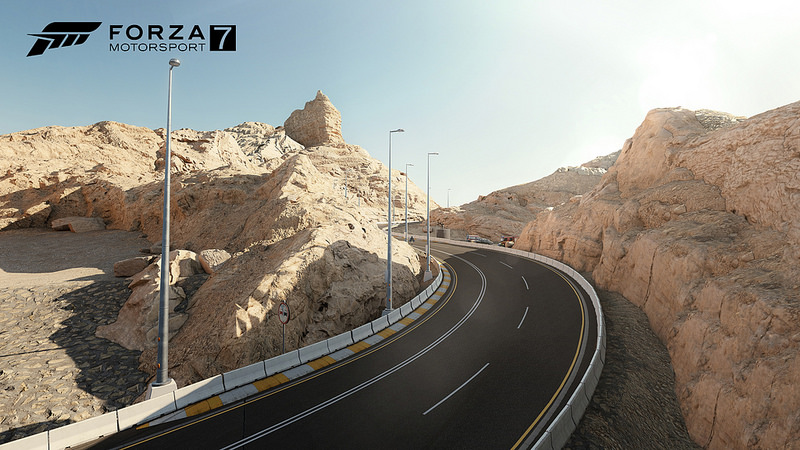 How many tracks are in FM7? What's new?
32 locations announced at gamescom "the largest list of tracks in Forza Motorsport history." All environments from FM6 return (with DLC tracks VIR and Homestead now part of the base lineup), and Suzuka, Mugello, and Maple Valley return from FM4. Dubai Circuit follows Bernese Alps, Prague, and Rio (inspired-by-real creations by Turn 10) as FM7's featured debut track, covering the city center and Jebel Hefeet Mountain Road. See the Track List thread for details about ribbons, as well as ManteoMax.com for track lengths and tracks used in events. Environments list:
Bernese Alps
Brands Hatch
Circuit de Catalunya
Circuit of the Americas (COTA)
Daytona
Dubai Circuit
Hockenheimring
Homestead-Miami Speedway
Indianapolis Motor Speedway
Le Mans Circuit de la Sarthe
Lime Rock Park
Long Beach
Maple Valley Raceway
Mazda Raceway Laguna Seca
Autodromo Nazionale Monza
Mount Panorama Circuit (Bathurst)
Autodromo Internazionale del Mugello
Nurburgring
Prague
Rio de Janeiro
Road America
Road Atlanta
Sebring International Raceway
Silverstone Racing Circuit
Sonoma Raceway
Circuit de Spa-Francorchamps
Suzuka Circuit
Test Track Airfield
Top Gear
Virginia International Raceway (VIR)
Watkins Glen
Yas Marina Circuit
Are there any loose surface or Offroad tracks?
No.

Are there Drag racing tracks in FM7?
Yes. Drag tracks are available in Free Play by changing Race Setup / Game Type to Drag. Drag mode is not available in Split Screen or Multiplayer as of launch week.

1/4-mile Dubai
1/4-mile Hockenheimring
1/4-mile Sonoma
Test Track has 1/4, 1/2, and 1-mile strips for both 2-car and 8-car lanes.

Where is the open area for tuning?
Test Drive is available in Free Play by selecting track and car in Setup, then select Race Info and Go to Race, then back to Setup and select Test Drive. While the Test Track Airfield has variant layouts listed in the Drivatar stats, as of launch week only the circuit ribbon is available from this menu.

Are there tire barriers or sticky grass to prevent corner cutting?
With the August update for Forza Motorsport 7, Turn 10 completely redefined track limits for all tracks/ribbons in the game.
Forums: discussion thread

Does FM7 have dynamic time of day?
"Dynamic skies will churn as skies darken and prepare for storms." "Turn 10 is building on the sky technology that was first seen in Forza Horizon 3, capturing real skies that bring life, motion, and color to every track in the game. Check out the screenshot of the observation tower at the Circuit of the Americas against a darkening sky – one glance is all it takes to recognize a Texas sky at dusk."
Forums: discussion thread
Does FM7 have dynamic weather?
"Lighting will flash across the sky and rolling thunder claps will accompany every pop and growl of your car's engine." "There's no such thing as a simple "rain" setting in Forza Motorsport 7. Not for Sebring or the Nürburgring, or Brands Hatch, or any other track where wet conditions are available. Instead, the team has created a system that can smoothly transition through multiple weather conditions per track, and those conditions can (and often will) change throughout a race. You might start off with gray skies and fog on a track like Sebring, only to find yourself in the middle of a thunderstorm two laps later. The lights might go green at Silverstone during a light rain, only to find drivers in dry conditions by the end of Lap 2. As in the real world, conditions change and sometimes change quickly, and its up to drivers to react to those changes."
Forums: discussion thread on weather system

Can players choose settings for weather or lighting?
Weather at the start, middle, and end of a race can be set if the track conditions icon is Rain. Time of Day is not available in race settings.


(Written by Manteomax)