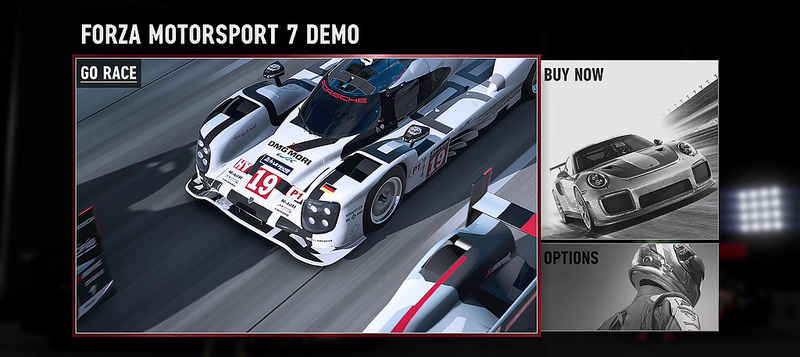 FM.net: Forza Motorsport 7 Demo is Live! - September 19
FM.net: Gone Gold Announcement - September 7
Forums: Discussion thread
Forums: Wheel settings discussion thread
Release: September 19, 2017 at 10 am Pacific Time worldwide
Store: Link (version 1.105.6970 at release)
Size: 17.6 GB (console), 22.9 GB (PC)
Min PC Specs (for 720p30fps. Higher specs allow higher resolution and framerate.)
Windows 10 Creators Update
DirectX 12 API, Hardware Feature Level 11
8 GB RAM
2 GB Video Memory
CPU: Intel i5-750 2.67 GHz or AMD FX-6300
GPU: NVIDIA GT 740 or NVIDIA GTX 650 or AMD R7 250X
Turn 10 announced at gamescom that a demo would be available "on Windows 10 PCs prior to the game's release" but did not announce a date. The date and details were included in the Gone Gold announcement on September 7th:
Quote:
The official demo for Forza Motorsport 7 is coming for both Xbox One and Windows 10 PC. The demo features three unique racing experiences in Forza Motorsport 7, showcasing the depth and breadth of the experiences available in the game. Drive the Forza Motorsport 7 cover car – the Porsche 911 GT2 RS – to the brand-new Dubai circuit and experience the thrill of navigating the Jebel Hafeet Pass, one of the most famous driving roads in the world. Or, pilot the massive Mercedes-Benz Tankpool racing truck to victory at the high-speed Mugello circuit in Italy.For drivers who want the ultimate test, the Nissan NISMO GT-R LM is available for a race at the Nürburgring Grand Prix circuit. Here, fans will be challenged to handle the 'Ring's complex corners and elevation changes, while also tackling the dynamic track conditions that will make racing in Forza Motorsport 7 so breathtaking. Racing through rainstorms laced with thunder and lightning make for a visual showcase and for a challenge like no other – where dynamic puddles grow and shrink with the intensity of the rain.The Forza Motorsport 7 demo will feature assists that will allow players to dial in the difficulty the way they see fit; and for PC players there will performance options including benchmark mode to adjust the experience to each player's PC performance capabilities. For the full list of PC specs supported by Forza Motorsport 7, check out our recent story.

Demo debut VOD - September 19

Does the demo support wheel controllers?
Yes. See the Known Issues thread for the list of compatible PC and Xbox peripherals.

Can I choose the location to install the demo on PC?
Type "Settings" in Cortana and System > Storage > "Choose where new content is saved" to confirm the drive where you will install the 23 GB demo.

Camera Shake and Troubleshooting
PC users may notice that the demo does not respond to video options (turning off HUD motion effects) and may experience stuttering. See the Known Issues thread in the Tech Support and Help forum for a list of issues with the demo. The thread indicates that "a future update" will add support for some features such as unlocked framerate, video options, and reduced load times.
Included features
Settings for HUD, Audio/Music, Video, Controller
3 circuit race events
Driver Gear choices
Assists

Not featured
Rivals or Leaderboards
Photo Mode
Buying/Collecting Cars
Mods
Upgrading/Tuning
Painting
Split screen
Multiplayer
Progress and settings are not saved, so you will start over each time you open the demo.
Progress in the demo does not carry over to the full game.
(Written by Manteomax)