UPGRADING FOR PERFORMANCE
---
Forza's upgrade options allow you to change the look of a car and improve its performance within its class or in a higher class. In general reducing weight improves performance but sometimes a heavier part can provide stability that helps acceleration, or reduces the overall PI in the car class to make room for another part. Some cars have fewer options but in general the upgrade categories and groups are the same for all cars, will varying specific impact on each car model. To tune gearing, suspension, brakes, or aero the car must have an adjustable (Race level) part installed. Parts cost credits to buy buy once owned they can be removed and reinstalled for free. Bought parts are assigned to each specific car, so if you had two Vanduras you would need to upgrade the camshaft etc. for each. Installing a conversion will uninstall some related parts in the Engine or Drivetrain (differential).

Engine upgrades
Change your horsepower and torque, engine response, and overall weight with these parts: Air Filter, Manifold, Fuel System, Ignition, Exhaust, Camshaft, Valves, Displacement, Pistons, (charger if installed), (intercooler if installed), Oil, Flywheel. Installing a turbo or supercharger on a naturally aspirated engine or vice versa will remove some installed parts as applicable.

Platform and Handling upgrades
Brakes, Springs, Anti-Roll Bars, Roll Cage, Weight Reduction. Changes to these parts at Race level have a visible effect on the car. Brakes, Springs, and ARBs allow for tuning.

Drivetrain upgrades
Clutch, Transmission, Driveline, Differential. Sport and Race transmission allow tuning gears. A new differential will have to be bought and installed after an AWD or RWD conversion.

Quick Upgrade
For a fast upgrade you can have the game decide which parts to install to bring the car to the top of the target class.

What tire types are in the game? How does transitioning from dry to wet work?
The full range of tire compounds are Street, Sport, Race, and Rally. Street through Race give progressively better grip (in lateral G's) while Rally tires have better traction on loose surfaces but only offer a street grip level between Street and Sport compounds. Some high performance cars will only have the option to upgrade to Race or Rally compound. There are no Drag slicks as in Forza Motorsport games.

Are there any new engine swap options?
A motorcycle engine is among a handful of new options, list TBD.

Is there Nitrous in FH3?
No.
UPGRADING FOR VISUAL CUSTOMIZATION
---
In this E3 video interview Ralph Fulton describes new visual customization parts: new rally parts, new offroad parts, over 30 new wheels with a refreshed list, and widebody kits from Rocket Bunny and Liberty Walk. Fulton and Graeme Boyd presented an example of the Nissan 240SX with widebody parts in this gamescom gameplay demo: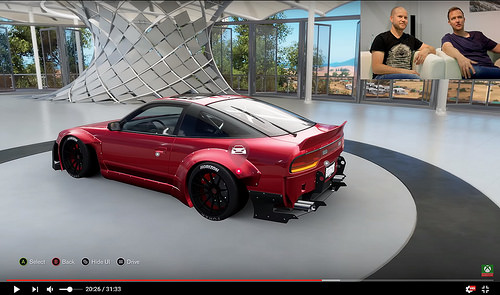 Do all cars have widebody kits?
"As many of them as we could. We added new visual upgrade parts for close to 100 cars, broadly grouped into these themes:
- Wide Body Kits, mainly those by Rocket Bunny/Pandem and Liberty Walk, but also some vintage flared bolt-on fenders. Total number of cars is somewhere between 20-25
- Rally and Offroad: things like light clusters, mudflaps, roof vents, bull-bars, 'roo bars, winches, etc. - these were added to a pretty large number of cars and trucks, somewhere between 45-50.
- Visible blowers: a lot of classic muscle cars now have a new hood option which includes a visible supercharger - somewhere around 20 cars.
- Roof Racks: not as many cars as the above got special roof racks, but there are some pretty unique roof racks that have been added, and a few unexpected surprises in store."

Are parts required to go together?
"You can install these parts individually as usual, or use the new "upgrade presets" option to apply a complete upgrade package that also comes with additional performance and handling tuning by Playground's car handling gurus. The CARS tab in the menu now has an "Upgrade Heroes" tile that lets you browse cars which have the new upgrade presets available. You can also tinker with your car as usual after you install a preset upgrade package, changing performance parts, bumpers, wings, etc. if that car has multiple options. "Upgrade Heroes" covers about half of the cars that have new parts added - there are still a lot cars with new visual upgrade options that didn't get equipped with a preset package." "A positive displacement supercharger will come with the visible blower upgrade presets by default, but you can remove the supercharger performance upgrade and still keep the "prop" blower if you want to maintain the look. Alternatively, you can skip the upgrade preset with tuning and just install it as a hood option, which is basically just a cool prop like most visible blowers in the movies (just for looks)."

Can we change exhaust tips?
No.
What are the new rim brands?

Can we change rim offset and lower/lift cars for stance?
Rim offset can't be changed but cars with widebody kits will widen the car's track width, and some rims have deeper set hubs than others which increase with wider tires. Choosing Race Springs will unlock the ride height setting and allow the lowest drop while choosing Rally Springs will allow the highest lift.

License Plates
"Personalize your car with a new license plate in the Garage. Use up and down and change each letter. If you need a space, go all the way to the bottom letter. Be creative, other players can see your license plate online!" A single license plate setting is used for all cars. The plate can have up to 8 characters of letters, numbers, dashes, or Australian icons. All cars have the plates on the rear of the car but not the front.

Horns
"From the Garage you can change your car horn. Many are available to begin with, but earn Credits and take part in #Forzathon to get even more!"
(Written by Manteomax)