Each car in the game is grouped with a Type. Cars in the Autoshow and Garage can be sorted by Type, and some events and Rivals restrict cars to a certain type. You can set up this restriction (or Anything Goes for all cars) for events using the Blueprint menu. There are 29 different types: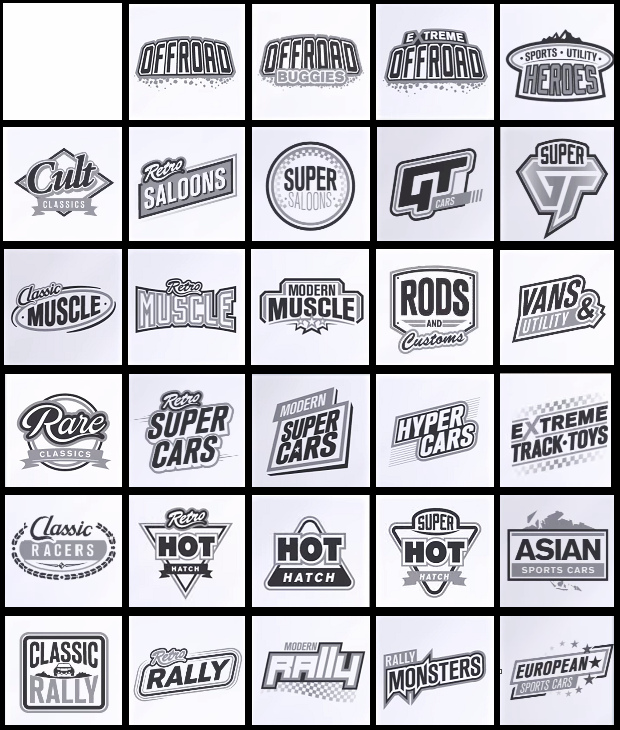 For a list of car models for each type, see the Routes/Events/Discovery thread.
The Blueprint menu also has the option to restrict car selection by Special Themes. Not all cars have an associated theme, and some cars are included in more than one theme.
Barn Finds
Reasonably Priced Cars - cars valued 25,000 CR or less
Forza Favorites - game box cover cars from the Forza game history
Collector's Series - rare and collectible models
World's Fastest Cars - historic and modern record holders
Evo vs Impreza Race Off
Heavy Hitters - cars weighing over 4,400 lbs
AMG vs M Sport Race Off
High Rollers - cars valued 1+ million credits
Tuner's Choice - European and JDM favorites among tuners
Ferrari vs Lamborghini Race Off
Ford vs Holden Race Off
Iconic Movie Cars - James Bond, Dukes of Hazard, etc
Homologation Heroes - race bred cars for the street
(Written by Manteomax)