FM.net: Demo Announcement article - September 12
Store: link

Is there a free downloadable Demo?
The Forza Horizon 3 Demo for Xbox One consoles was announced and released on September 12, 2016. The size is 18GB. The standalone PC Demo is available now.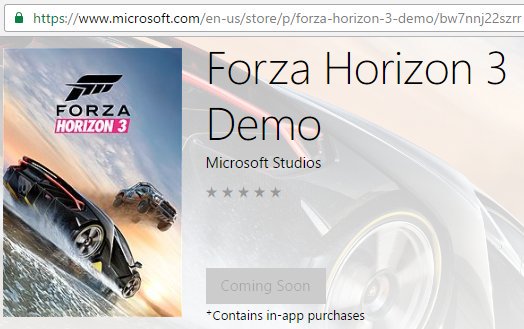 Included features:
The same opening sequences as the full game, Showcase event, racing events with car options, custom license plate, character/name choice, hire/fire drivatars, Drone Mode, choose festival site (but not travel to it).

Not included:
Progress does not save - the game restarts each time you play it to allow a different car choice. Progress does not carry over to the full game. Access to the Festival Site (Autoshow, Auction House, Livery Editor, customization), Barn Finds, other features.

What about wheel support?
"In addition, we have seen questions regarding wheel support for Forza Horizon 3. Alongside the release of our most recent update for Forza Motorsport 6: Apex, which introduced Windows 10 wheel support, we've been working hard to improve steering wheel support and FFB tuning for Forza Horizon 3. Because the game features driving experiences and vehicle types that are not present in the Apex, such as off-road driving in trophy trucks and buggies, this integration work requires additional tuning across the game's diverse vehicles and terrain. While not found in the Xbox One demo, many of these improvements will be present in the full version of Forza Horizon 3, on PC and Xbox One, when Forza Horizon 3 launches with early access on September 23. In addition, we'll have support for additional wheels beyond the Apex wheel list that was previously announced. As we've said before, wheel support is an ongoing priority for the Forza team and, as we gather your feedback on wheels in both Apex and Forza Horizon 3, we will continue to improve wheel support in future content updates."
(Written by Manteomax)