FM.net: Forza Rewards site - redeem, review points, compare with Friends
FM.net: 2013 Forza Rewards announcement
FM.net: Loyalty Rewards announcement and Forza Rewards tiers, points update - September 22
Forums: Forza Rewards FAQ in the News forum.
Forums: discussion thread for Forza Rewards in FM7
LOYALTY REWARDS

What are the Loyalty Rewards for FM7?
Loyalty Rewards are one-time gifts at the start of your gamesave based on your Forza Rewards Tier. Loyalty Rewards are a combination of Forza-themed Driver Gear suits plus playercard Badge plus Prize Crates. While there are no direct car gifts, Prize Crates may include cars.

Tier 2: 1 Prize Crate, Tier 2 Badge, Forza Motorsport 7 Driver Gear suit
Tier 3: 2 Prize Crates, Tier 3 Badge, Forza Horizon 3 Driver Gear suit
Tier 4: 3 Prize Crates, Tier 4 Badge, Forza Motorsport 6 Driver Gear suit
Tier 5: 4 Prize Crates, Tier 5 Badge, Forza Horizon 2 Driver Gear suit
Tier 6: 5 Prize Crates, Tier 6 Badge, Forza Motorsport 5 Driver Gear suit
Tier 7: 6 Prize Crates, Tier 7 Badge, Forza Horizon Driver Gear suit
Tier 8: 7 Prize Crates, Tier 8 Badge, Forza Motorsport 4 Driver Gear suit
Tier 9: 8 Prize Crates, Tier 9 Badge, Forza Motorsport 3 Driver Gear suit
Tier 10: 9 Prize Crates, Tier 10 Badge, Forza Motorsport 2 Driver Gear suit
Tier 11: 10 Prize Crates, Tier 11 Badge, Forza Motorsport Driver Gear suit

Suits and Badges are cumulative: "So, if you are Tier 4 at the launch of Forza Motorsport 7, you will receive the Forza Motorsport 7, Forza Horizon 3, and Forza Motorsport 6 driver suits, the Tiers 2-4 Badges, and 3 total Prize Crates. (Note that there are no Tier 12 rewards, as Tier 12 will not be possible to attain until the release of Forza Motorsport 7)."
Forums: discussion thread
For reference:

FORZA REWARDS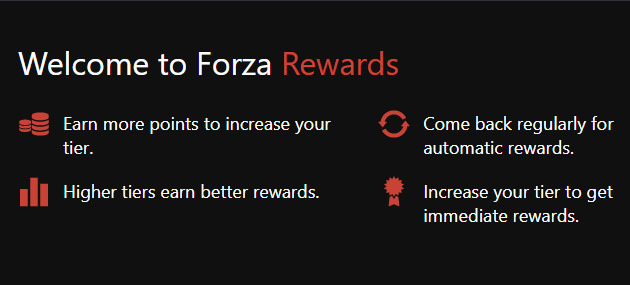 How do Forza Rewards work?
Forza Rewards are ongoing in-game gifts based on your activity in Forza games on the Xbox 360 and Xbox One/PC. "Tier levels are attained by playing Forza games and achieving certain milestones (such as driving a certain number of miles or reaching a certain Driver Level). These feats earn you points for your Forza Score; the higher your Forza Score total, the higher your Tier level. As your Tier level increases, so too does the rewards you can earn in Forza games." Your Forza Total and Tier number are displayed in your profile in each post on the forums; the numbers may seem to reset from time to time but this is a forum display issue and doesn't affect your actual score.

Tiers and Point Levels
Tier 1 starts at 0 pts
Tier 2 at 100 pts
Tier 3 at 500 pts
Tier 4 at 1,000 pts
Tier 5 at 2,500 pts
Tier 6 at 5,000 pts
Tier 7 at 7,500 pts
Tier 8 at 10,000 pts
Tier 9 at 12,500 pts
Tier 10 at 15,000 pts
Tier 11 at 17,500 pts
Tier 12 at 20,000 pts
Points Per Game
There are a total of 22,000 points available, so you can use different amounts from each game to reach Tier 11 or 12 without fully completing every game requirement.
3000 from FM7 (Xbox One or PC)
3000 from FH3 (Xbox One or PC)
1000 from Apex (PC only)
3000 from FM6 (Xbox One only)
500 from F&F (Xbox One only)
3000 from FH2 (Xbox One only)
3000 from FM5 (Xbox One only)
2000 from FH (Xbox One back compat or Xbox 360)
2000 from FM4 (Xbox 360 only)
1000 from FM3 (Xbox 360 only)
500 from FM2 (Xbox 360 only)
September 2017 change in points from DLC: "Based on player feedback we have removed Token- and DLC-based milestones in Forza Rewards going forward, instead choosing to focus on feats that reward time invested in the game. Related, we have decided to retroactively reward maximum reward points for DLC and Token-based reward feats for players who have played each title. For example, if you played Forza Horizon 2 the DLC/Tokens feat scores will be automatically be maxed out. This will go for all Forza games you have played." This change was made on September 25.
FM7 Rewards Points Requirements
FM7 milestones can bee seen at https://rewards.forzamotorsport.net and on the Forza Hub. Forums: discussion thread for Forza Rewards in FM7. Note that Forza Rewards may take a day to update after your gameplay.
500 pts for Cars Owned (250)
500 pts for Days Played (50)
200 pts for Driver Gear Owned (100)
300 pts for Driver Level (100)
500 pts for Gamerscore (1000)
500 pts for Miles Driven (2857 miles or 4600 km)
50 pts for Perfect Passes (50)
300 pts for Showcases Completed (30)
150 pts for Unique Mods Used (50)


Redeeming Rewards
Redeeming rewards is a manual process done either through the Forza Hub app or at https://rewards.forzamotorsport.net. Through 2017, the reward window has reset late Thursday nights. You can only redeem rewards for the current period, so if you miss a window then you miss those rewards. Depending on your Forza Rewards Tier, you will receive the following total credit payouts for each weekly redemption window:
Tier 2 = 25,000
Tier 3 = 50,000
Tier 4 = 75,000
Tier 5 = 100,000
Tier 6 = 125,000
Tier 7 = 175,000
Tier 8 = 225,000
Tier 9 = 275,000
Tier 10 = 350,000
Tier 11 = 425,000
Tier 12 = 500,000
Note that the Forza Hub indicates the total redeemed rewards over the life of your activity; 500,000 credits is the maximum any player will receive in a single week. Once you have pressed Redeem, you must navigate to the in-game Message Center and download the credits before they will be added to your account.
(Written by Manteomax)