Forza's upgrade options allow players to change the look of a car and improve its performance within its class or in a higher class. In general reducing weight improves performance but sometimes a heavier part can provide stability that helps acceleration, or reduces the overall PI in the car class to make room for another part. Some cars have fewer options but in general the upgrade categories and groups are the same for all cars but the same part will affect models differently. To tune gearing, suspension, brakes, or aero the car must have an adjustable (Race level) part installed. Parts cost credits to buy buy once owned they can be removed and reinstalled for free. Bought parts are assigned to each specific car, so if you had two Venenos you would need to buy a camshaft for each, etc. Unlike FH3, there is no basket-then-buy system in the Upgrade Shop; each part must be purchased and installed individually.

HOMOLOGATION RESTRICTIONS
While you can upgrade any car any way you prefer to use in Free Play and private Multiplayer, single player campaign preset multiplayer events restrict cars based on a Homologation standard for that car's Division. In the example below, The 2000 Silvia's division requires Tire Compound to equal Street (and this current build fails because it has Stock tires installed), and Tire Width, Power, and Class PI must be equal or less than the restriction, so it can't use the upgraded Sport Turbo part. Quick Homologation will use the parts that were included when you obtained the car, but players can custom mix parts as long as they fall within the restrictions.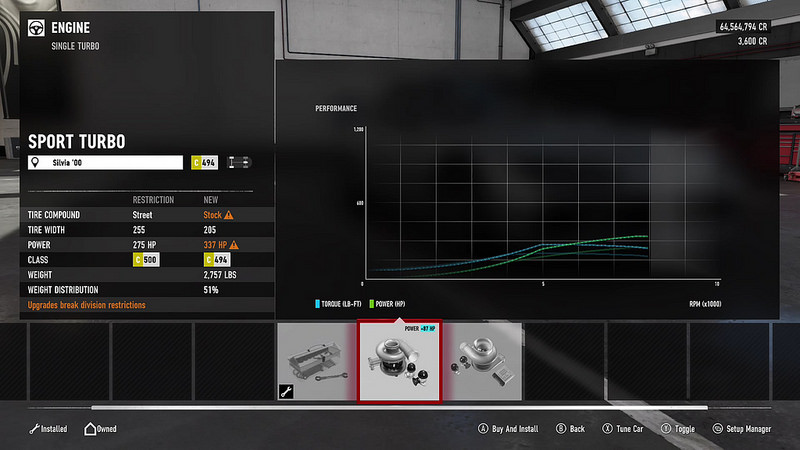 Some cars may not have all of these categories available:

Engine
Change your horsepower and torque, engine response, and overall weight with these parts: Air Filter, Manifold, Fuel System, Ignition, Exhaust, Camshaft, Valves, Displacement, Pistons, (upgrade turbo/supercharger if installed), (intercooler with boosted aspiration installed), Oil, Flywheel. Installing a turbo or supercharger on a naturally aspirated engine or vice versa will reset some installed parts as applicable.

Platform and Handling
Parts: Brakes, Springs, Anti-Roll Bars, Roll Cage, Weight Reduction. Changes to these parts at Race level have a visible effect on the car. Brakes, Springs, and ARBs allow for tuning.

Drivetrain
Parts: Clutch, Transmission, Driveline, Differential. Sport and Race transmission allow tuning gears. Converting the car's drivetrain will cause the differential to reset to stock with an option to upgrade to Race.

Tires
Each car can choose from up to four grip level compounds - Street, Sport, Race, and Drag - and may have multiple Width options for Front and Back tires. A purchased width will stay installed for any installed tire compound.

Is there tire lettering?
No.

Can we change tires for wet conditions? What if my tuning setup doesn't include them?
"No, we've chosen to focus on the on-track simulation and physics. Pitting is supported, but it isn't part of the core loop and strategy." The solution introduced with FM6 is that the game automatically adjusts tires for wet weather. There are no options in pit lanes; pitting just restores the car to 100% when tire wear is enabled with the Damage setting.
Forums: discussion thread
Rims
Rims affect performance with unsprung weight changes and tirewall flex with rim sizes. Stock rim size cannot be changed; you must install a new rim type and then change the rim size. "Wheel options will be abundant in Forza Motorsport 7. In addition to bringing over a number of the new-entry wheels from Forza Horizon 3, we're adding a selection of new race-inspired wheels." Every car in the game can choose any of the 170 different rim styles from over 40 different manufacturers.

Aero & Appearance
In general most cars have a Forza front bumper and Forza rear wing for adjustable aero. Some cars have multiple hood, sideskirt, bumper, and wing options from aftermarket brands. Many muscle cars have a blower option, which can be equipped regardless of actual engine aspiration.
Forums: discussion thread

Are there wide body kits in FM7?
"For the first time in the Forza Motorsport series, we're bringing wide-body kits to a number of cars in Forza 7. A select number of kits are completely bespoke and designed in-house here at Turn 10; from underground-inspired designs to aero-enhanced modeled after professional motorsport. In addition, numerous body-kit options from Forza Horizon 3 will also be available in Forza Motorsport 7, including Upgrade Heroes like the Nissan S14 and the 240SX SE announced today." If there are widebody options for a car, these will be found in the Upgrade Shop under Aero. The Bodykit Presets tile in the Tuning & Upgrades menu will upgrade both bodykit parts and performance parts.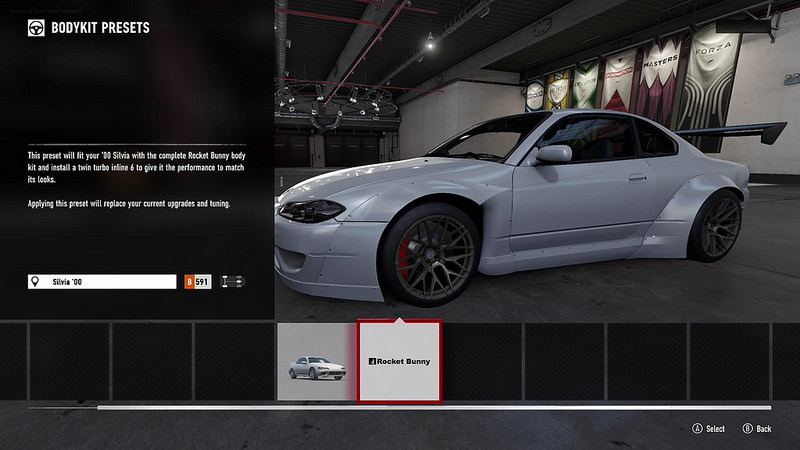 Conversions
Swap out the Engine, Drivetrain, and Aspiration. Most cars have at least one engine swap option, others have as many as six out of the 17 different engines offered as swaps. Changing the engine will affect power and car weight, and also cylinders and aspiration; changing the engine will change the available aspiration conversion and engine upgrades. Almost all RWD cars can be converted to AWD and vice versa; this will change the differential part in upgrades. There are four common aspiration options: turbo, twin turbo, positive displacement supercharger, and centrifugal supercharger.
Forums: Engine Swaps with car list

Is there an option for Nitrous oxide?
The only game in the Forza franchise to date to feature nitrous oxide boost was Forza Horizon 2 Presents: Fast & The Furious.
(Written by Manteomax)