CLUBS IN FH3
---
How many players can be in a club?
1000

Can existing clubs in FH2 be imported to FH3?
Clubs must be recreated in FH3.

Can club members share garage cars or collaborate on designs/tuning setups?
The only place in the game where clubs can be shared (other than selling cars to each other in the Auction House) is during online Co-Op sessions.



CLUBS ON XBOX
---
At E3 2016, Xbox announced new upcoming Club features that are separate from the in-game club system, but may also be of interest to FH3 players: http://news.xbox.com/2016/06/13/xbox-arena-clubs-lfg-e3/

Rollout to Preview members began the week of September 6:
http://news.xbox.com/2016/09/06/xbox-clubs-lfg-preview
Clubs on Xbox Live
Clubs are gamer-created and managed groups that can help you meet people and grow communities of gamers who love the same things you do. Anyone can join or create a Club and you'll probably see a Club for just about everything. For example, I created a Club for all my college buddies so we can keep in touch and coordinate competitive Halo gaming nights.

As a Club member, you'll be able to set up parties, play games, share content, and easily communicate using voice and text chat with the Club across Xbox One and the Xbox app. You can search for Clubs (or create your own) in the Community tab on Xbox One and the Clubs section on other devices, and Clubs associated with a game will be accessible in the title's Game Hub. As a Club admin, you'll have the tools to ensure that everyone is having a great time and help create a lively and inclusive environment. Reserve your Club name today as no two can be the same!

Looking for Group (LFG) on Xbox Live
LFG helps you quickly find other players that you want to game with. It's like posting a gaming "want-ad" to the Xbox community. Need to do daily quests or on the hunt for certain achievements? We have you covered – just create a LFG post. You'll be able to add certain requirements to make sure that you're finding the right gamers. You can specify the game, the game mode, how many people you need, rules like no trash talking or casual friendly, and any other in-game requirements like level, gear or character type.

A quick primer on how LFG works: gamers can browse open LFGs and request to join the ones that they're interested in. The LFG host chooses from the list of gamers who have expressed interest and, once the group is full or the host is ready, the host can quickly get those people into party chat and start playing. Quick, easy, and simple. Whether you're playing a FPS on Xbox One or your favorite PC title, you can quickly find other gamers to play with on Xbox Live. As with Clubs, Preview members will start seeing LFG on Xbox One today and on the Xbox app in the coming weeks.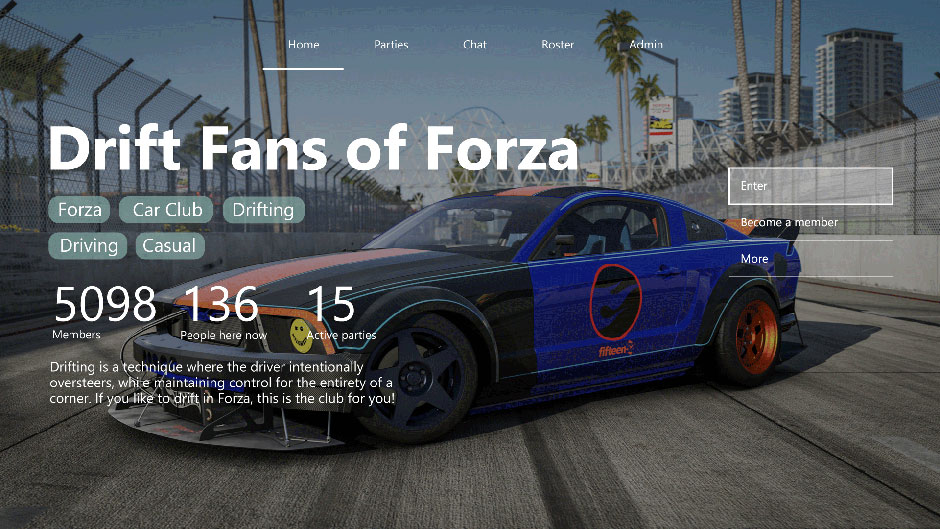 This image is from the Xbox Clubs article, not from FH3
(Written by Manteomax)