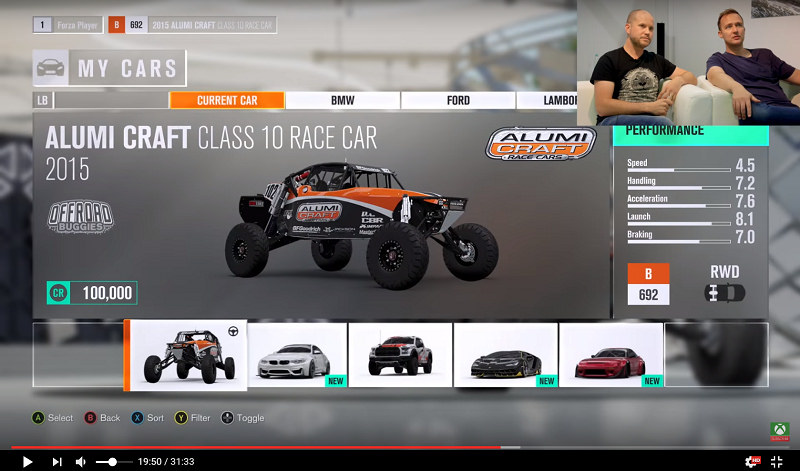 Selecting a car gives the option to: Get in Car, Add to Favorites, View Car, View History, Remove Car From Garage

How does the garage work? Can I sort and group cars I own?
Cars can be sorted by Manufacturer, Class, Year, Value, Championship, or Country, and Filtered by Upgrade Preset, Class, Car Type, and Drive Type. Selecting a car will also allow you to add it to Favorites.

Is there a limit to the number of cars I can own?
550

Can I import cars I own in my other Forza game garages?
No. Loyalty Rewards based on Forza Rewards Tier and previous games/VIP will gift up to twelve cars from the FH3 roster to your garage after you have chosen your second Festival Site.

Is there a bonus in FH3 for the number of cars I own in previous game garages?
There is no credit bonus for previous garage numbers as seen with FM6 Loyalty Rewards.

If I purchase a DLC pack will the cars go directly to my garage?
No, you will need to find the included cars under each Manufacturer in the Autoshow where they will be listed for Free to add to your garage. After you have collected a DLC model for your garage, you can buy additional cars of that model for credits.

Can I sell cars back to the game or to the Auction House?
Cars can be sold through the Auction House with a maximum buyout slightly less than the car's value. Cars can be Removed from your garage but no credits are given there.

Can I gift cars to friends?
No, though cars can be shared with your teammates in Co-op mode.

Can I share cars with Clubs?
No, but cars can be shared with your teammates in Campaign Co-op mode.

Can I rent cars I don't own?
Online modes provide a selection of Rental cars that cannot be upgraded and do not earn credits or XP.
(Written by Manteomax)