Why can't I find/install FH3 in the Windows Store? I just want to buy for PC.
If you are having trouble finding/buying/downloading the game from the Windows Store, the cause may be your Windows version. Your local region may also not be supported by Xbox Live, or your PC may not meet the minimum requirements. You can also try clearing the Windows Store cache by running WSRESET.exe from Cortana. You don't need to own a console in order to buy Play Anywhere games for PC, which are available from the Xbox App for Windows, Windows Store (Microsoft.com), and as codes from retailers. See this video tutorial about installing Play Anywhere games. Once purchased and installed to PC, the game will be listed under Settings > Apps & Features.

Will my PC be able to play FH3?
The Gone Gold announcement lists the following recommended specs:
CPU i7 3820 @ 3.6GHz
GPU NVIDIA GTX 970 or NVIDIA GTX 1060 or AMD R9 290X or AMD RX 480
VRAM 4GB
RAM 12GB
Hard Drive Type HDD
Available Space 55 GB
Resolution 1920 x 1080
Windows Version Windows Anniversary Edition 64-bit 14393.101
The Microsoft.com Windows Store link also shows Minimum requirements of 8GB memory, 2GB video memory, i5 3570 processor, and NVIDIA GTX 750 Ti or AMD R7 250X, and will show your currently installed processor: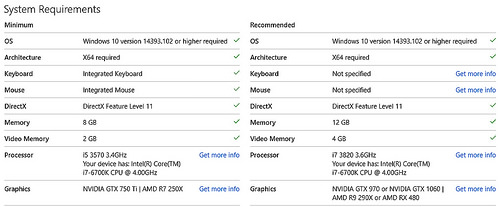 Ideal specs are i7 6700 @ 4.0GHz, GTX 980Ti or GTX 1080 or R9 Fury X, 6GB VRAM, 16GB RAM, SSD w/55GB free, 3840 x 2160 resolution. "Note that these specs are meant to reflect locked 30fps performance in the game."

Windows Anniversary Update note
The most recent build of Windows 10 and DirectX 12 is required to install and play FH3 on PC. Run dxdiag from Cortana to confirm your current builds. Under Settings > Updates & Security you may see "Your device is up to date" even if you don't have the Anniversary Update installed. Click the "Learn more" link to load the support page and then click "Get the Anniversary Update now" to install it.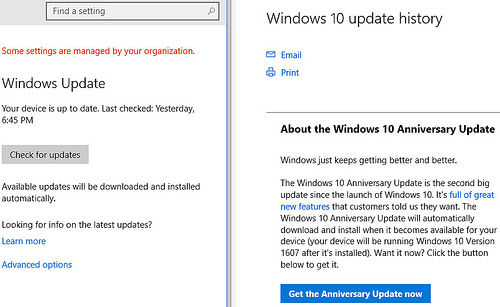 How much storage do I need for the game? Can I set the install location drive?
The suggested available drive space during Windows Store installation is 60GB. To set your PC installation drive, go to Settings > System > Storage > New apps will save to selection (physical drives only). If the option to select a drive is grayed out, update your Windows version (see above Q&A). See Xbox Support page about storage.

What is FH3's framerate and resolution? Can it be unlocked on PC?
Framerate will be unlocked on PC and capable of 4k resolution. "Forza Horizon 3 players will have a tremendous amount of adjustment options when playing on Windows 10. From basic options like full screen, vertical sync, and resolution, to more advanced adjustments like quality settings for motion blur, mirrors, reflection, static and dynamic geometry, we're giving Windows 10 players the power to play the way they want. Whether playing on the recommended specs or pushing the hardware limits to deliver the ultimate 4K racing experience, Forza Horizon 3 players will have lots of options for making the most of their experience."

Does FH3 require an always-online connection or can I play offline?
"ForzaHorizon3 does not require a persistent connection to the Internet for playing single-player modes".

Do I need an Xbox Live Gold account to play online with PC?
Unlike the Xbox version which requires Gold, the PC version does not require Gold membership; all the same online features are available for free.

Can players modify the game on Xbox or PC (like Fallout)?
Not as extensively as Fallout, but FH3's Blueprint feature allows players to create their own custom events based on existing routes and cars in the game.
(Written by Manteomax)