Here are some troubleshooting tips to help with any multiplayer connection issues.
PC
Please make sure Windows 10 is up to date.
Open the Xbox App (Xbox Console Companion) on your PC and navigate to the settings button.
Click the Network tab and let it run its cycle.
Once it's complete, you will see your Xbox Multiplayer NAT type and Server connectivity:
If an issue is identified, follow the "More Information" link for further troubleshooting steps.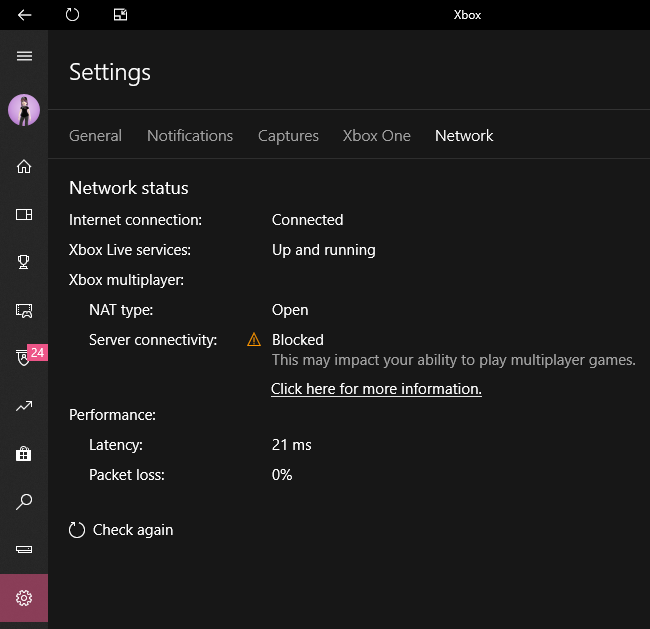 Teredo is Unable to Qualify
Please check this article for information on how to troubleshoot this error:
https://support.xbox.com/help/Hardware-Network/connect-network/troubleshoot-party-chat
Xbox App Server Connectivity on Windows 10 is Blocked
https://support.xbox.com/help/hardware-network/connect-network/server-connectivity-xbox-app-displays-blocked
After following the steps above, please submit a "Not Able to Connect to Multiplayer" Ticket if you are still having an issueNot Able to Connect to Multiplayer" Ticket.
Ethernet
Disable your Ethernet device.
Restart your PC
Re-enable your Ethernet device.
XBOX
Press the Xbox button to open the guide.
Select Settings.
Select All Settings.
Select Network.
Select Network settings. Any known outages will appear in the middle of the screen.
Select Test multiplayer connection on the right side of the Network settings screen.
If the multiplayer connection test is not successful, the Multiplayer Connection Troubleshooter will try to identify the problem.
If you are still having an issue after trying the steps above, don't hesitate to contact official support for assistance.
The support links to a virtual agent to assist you. If you want to call a support agent, type "phone support" in the virtual agent window. You'll be prompted to answer a couple of questions about your issue, then directed to either get in the phone queue or schedule a call.