Forza Motorsport PC Specs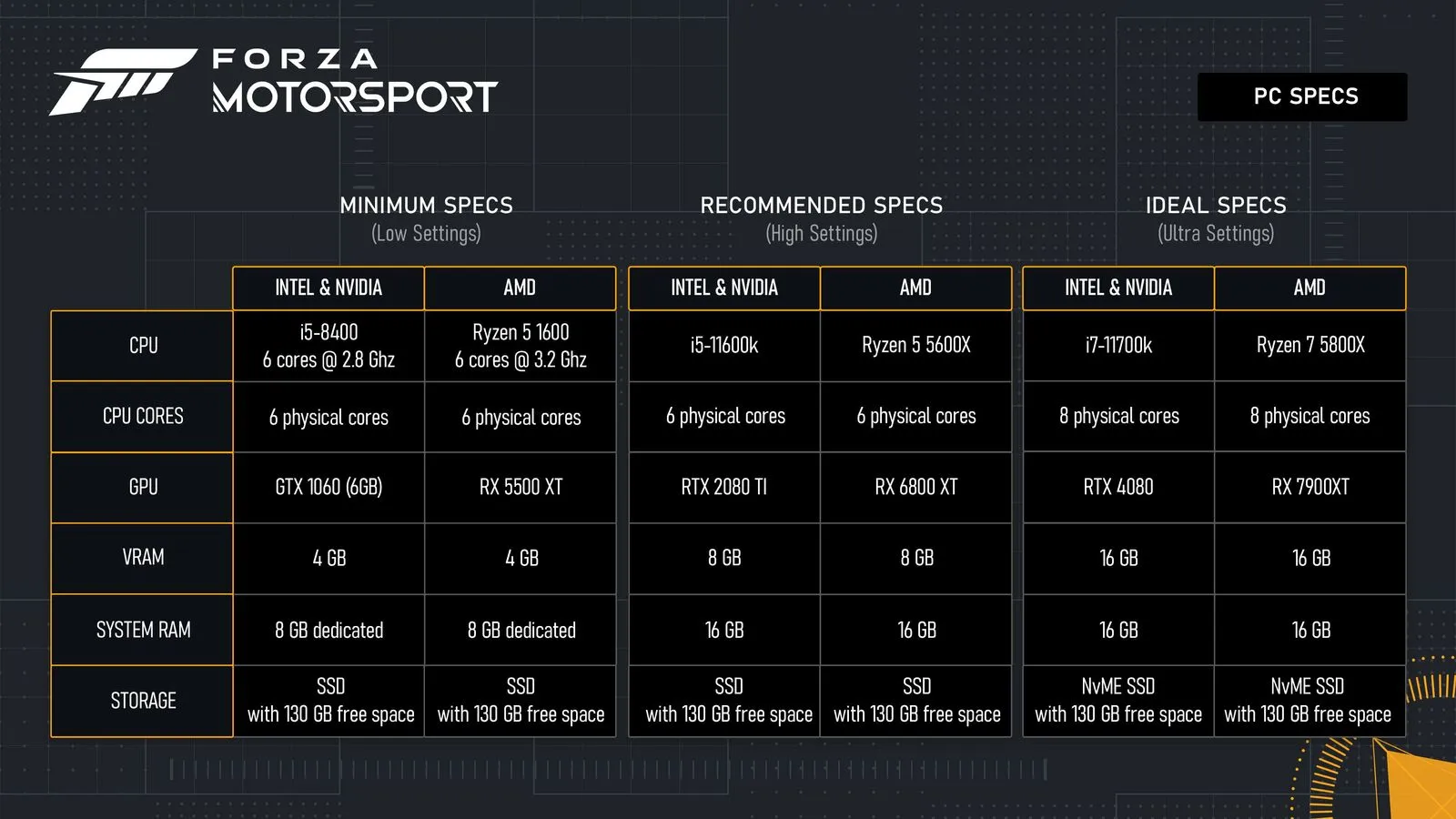 *Forza Motorsport on PC does not support Intel GPUs at launch.
Forza Motorsport on PC is available through PC Game Pass, the Microsoft Store and Steam. If you're wondering how your PC will run the game, we've created this spec sheet which outlines the minimum, recommended, and ideal PC setups to enjoy the game.
We've optimized Forza Motorsport to look and play great across a wide range of PCs with resolutions supported up to 4K and beyond with HDR calibration, NVIDIA DLSS 2 and AMD FSR 2.2, unlocked framerates in single-player, cross-play and cross-save with Xbox Series X|S players, shader precaching and more.
You can customize your PC gameplay with adjustable FOV, ultrawide resolutions on-track and use benchmark mode to dial in your preferred graphics settings.
Plug in your favorite devices with DirectInput API featuring layout remapping, force-feedback on wheels and Xbox controller rumble.
You can learn more about Forza Motorsport on PC in this FAQ.
Forza Motorsport PC Rendering Scenarios

Note: Players can turn on Ray Tracing on High/Recommended in race, but it's turned off by default.
Our ForzaTech rendering engine is built to showcase the full capabilities of next-gen hardware and technologies. It's also highly scalable and can adapt to the wide breath of PC configurations on the market today. We've incorporated techniques like Dynamic Resolution Scaling that allow us to hit performance targets across different rendering scenarios, all while delivering best-in-class racing experiences and visuals.
Forza Motorsport PC Rendering Technologies
Reflections
RT Rough Reflections: Ray tracing technique to render reflections on rougher surfaces.
RT Mirror Reflections: Ray tracing technique to render reflections on shiny surfaces.
Planar Reflections: Technique to render reflections on a flat surface.
SSR: Screen Space Reflections.
Ambient Occlusion
RTAO: Ray traced full scene Ambient Occlusion.
GTAO: Ground Truth (screen space) Ambient Occlusion.
Global Illumination
RTGI: Ray traced full scene Global Illumination.
Surfel GI: Probe based Global Illumination.
Resolution and Upscaling
Dynamic Resolution: Rendering at a lower resolution in order to not drop framerate.
Temporal Upscaling: Technique to use previous frames to create high quality frame upscaling.